Predatory Loans & Practices
Don't Get Caught in a Debt Trap
Borrowers facing unexpected emergencies with sizeable expenses find that payday loans are an enticing and instantaneous revenue source, yet they too often pay a steep price for the convenience of cash now.
What are Payday Loans?
One easy way to get fast cash are payday loans. However, high-cost payday lending is prohibited in eighteen states and there are strict federal rules that protect service members from abusive payday lending. Why? Well a payday loan is a small-dollar loan with an average of 390% APR, that an individual is able to borrow in a store front business or on-line (which in some cases are illegal in California).
Many payday loan store fronts are located in ethnic enclaves and low-income neighborhoods and prey upon these vulnerable populations. Borrowers qualify for a payday loan as long as they show proof of income and sign a post-dated check that gives the payday lenders access to their bank account in case they default. The payday lenders do not check to see if the borrower has other bills and obligations that may make this loan unaffordable for them. If the borrower is unable to pay the loan back within two weeks, the payday lender has access to the client's bank account and can use the blank check to collect money owed. Sounds easy, but what if you have another unexpected emergency or if you can't pay it back in full because you have more bills to cover in a two week period? This video illustrates how individuals get stuck in a dept trap - VIEW VIDEO
Families' checking accounts are often left in the red or they are forced to get another payday loan to pay for their first pay loan and get trapped in debt (paying only the fees and as payday loans have very high interest rates, borrowers have a have a hard time paying into the principle debt). In fact, the average payday borrower is stuck in the debt-cycle, repeating loans, for a total of 8-10 times. For a payday loan of $255 with a $45 fee (the norm in California), this means that a borrower ends up paying $450 in fees for a $255 loan!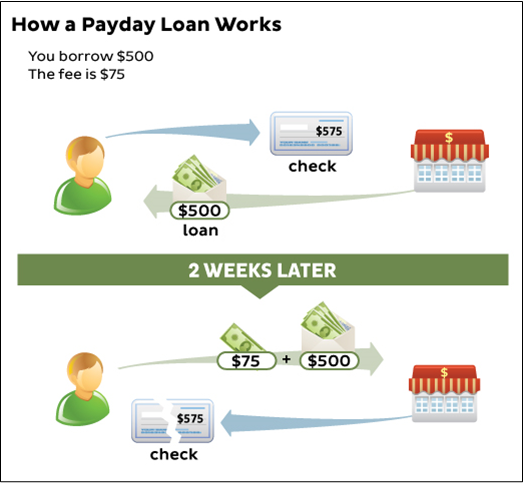 Alternatives to Payday Loans
Seek lower cost loans from community banks and credit unions - Often times community banks and credit unions have much more competitive rates and terms than larger banking institutions.
Dial 211 for Essential Community services - 211 provides information for people looking for training, employment, food pantries, help for an aging parent, addiction prevention programs for their teenage children, affordable housing options, support groups and ways of becoming part of their community. 2-1-1 allows people to give help and to get help.
Visit http://www.needhelppayingbills.com/ for Emergency Rental Assistance.
Visit http://www.benefits.gov/benefits/benefit-details/1540 for Energy Assistance.
Visit http://www.consumerfinance.gov/find-a-housing-counselor/ for Financial Assistance.
Auto Leading Scams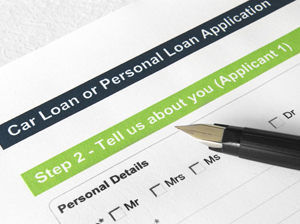 Buying a new car can be complex.
When financing a new vehicle, there are a few things you should keep in mind:
Secure your financing before you go to the dealer. This will help you avoid the tricks and traps dealers often use to get you to pay more for your car loan.
If you can't secure financing outside of the dealer, go to at least a few dealerships to compare rates and financing offers.
Upon choosing a car and a dealer, be sure to take your time and read all the paperwork before you sign the dotted line. You have the right to take documents home and look at them before signing.
Be sure your contract is final and funded before you drive away with your new car.
Even with those precautions, a dealer may try to pull a "yo-yo scam" - which means the dealer cancels the original deal and later forces the consumer to return and accept a more expensive offer. Dealers use an array of tactics to lure car buyers back. In most cases, dealers know of financing problems before you leave the lot.
Consumers should be wary if you hear any of the following "reasons" for why your vehicle financing fell through after receiving a different rate/price:
A co-signer is needed for the loan.
The "lender" could not approve the loan without the purchase of an add-on product such as an extended warranty.
The "lender" could not approve the full amount of the original loan.
There was a mistake on the paperwork.
The "lender" could not approve the original interest rate.
A larger down payment on the vehicle is needed.
The "lender" could not approve the loan based on the borrower's credit standing.
Car Title Loans
A car title loan is a loan for a small amount of money that requires repayment in a short time. To get a car title loan requires giving the lender the title to your vehicle - your car, truck, motorcycle, etc. There is also a fee involved in borrowing the money. You usually have to repay car title loans within 30 days. Consumers should be wary of these types of loans, as they are often associated with high interest rates and a number of fees.
Sources: The Center for Responsible Lending and Federal Trade Commission